Fort Myers & North Port Flood Insurance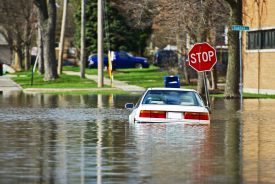 Flood damage can be devastating for any family, and most flood losses are not covered by your standard home insurance policy. Also, don't rely on the federal government to assist you in the event of a massive flood situation.

Your standard Florida flood insurance policy would apply to homes, condos, mobile homes, businesses and rentals that are in flood zone areas. Typically, your flood insurance policy is dependent on your flood zone risk.

We have multiple options for your flood insurance in Florida:
Building, contents, replacement cost coverages
Different coverage options available
Standard flood insurance coverage
Optional excess flood coverage
Affordable rates
Flood coverage Insurance in Fort Myers & North Port
Building coverage is designed to protect the structure of your home or business and cover appliances and other property items that are considered part of your property including air conditioners, dishwashers and cabinets. You will also want to consider coverage for your personal property as well, such as furniture and clothing.
Your Home Insurance Policy Doesn't Cover Floods
It's a common myth that your home insurance policy covers floods, but this just isn't true. Flood insurance is administered through the National Flood Insurance Program (NFIP). Fort Myers, Florida, participates in the NFIP, and as an independent agency we can help you get a FREE quote for flood insurance.
If you live in a Special Flood Hazard Area, then flood insurance is mandatory. The entire city of Fort Myers is located within one of these hazard areas, so you may be required to carry flood insurance if you live within the city limits.
Floods can occur anywhere, even in areas not designated as high risk. The NFIP defines a flood as "a general and temporary condition of partial or complete inundation of two or more acres of normally dry land area or of two or more properties" with water.
As a local business in Fort Myers, we've witnessed much of the damage floods can cause to homes and businesses. Our agents have an in-depth knowledge of all the local laws and regulations surrounding flood insurance, and we can help make sure you get the right amount of coverage so you're not left vulnerable.
The Benefits of Working with an Independent Agent
The independent agents at Avalon Insurance are licensed to legally represent your insurance needs to the NFIP and insurance companies. We advocate on your behalf, keeping your best interests in mind to find the absolute best coverage available at a great price.
Flood Insurance Is Affordable
It's also necessary to protect your home and family, especially if you live in a flood hazard zone. We take the time to get to know you and your family, so that we can find the amount of flood insurance coverage that is right for you.
When you go without flood insurance, you leave all your valuable assets vulnerable to flood damage. It's easy for the cost of flood damage to reach $25,000, and it's not uncommon for it to cost many times that amount.
Don't Wait for Hurricane Season: Get Flood Coverage Today!
Hurricanes are a fact of life in beautiful Fort Myers, Florida. Let Avalon Insurance help you get the coverage you need to protect your home and your family in the event of a flood.
Policies have different options so contact one of our staff at 239-275-3888 for any questions you may have about your Florida flood insurance policy.