Fort Myers & North Port Business Insurance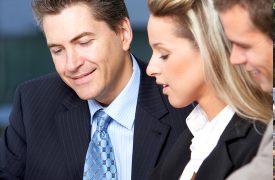 Your business is your livelihood, and the livelihood of all of your employees. Everyone relies on it to not only provide a steady job for the future, but to also make it possible to retire. As long as your work is relevant, you hope to provide jobs for your loyal employees for a lifetime to come.
We have two locations to better serve your business insurance needs; one in Fort Myers, FL and one in North Port, Fl. Business insurance can help you provide job security for everyone in the company. Injured employees need medical attention and supplemental income when they are hurt on the job. Your building, vehicles, and equipment could be compromised by a thief, accident, or competitor. Unfortunately you can never predict an accident of any kind. If one were to happen though, it can mean huge financial loses for your company, as you will often be liable to cover the expenses if you don't have proper business insurance.
These are the risks that come with running a business. You can't avoid them. You can only protect against them. That's what a good insurance plan can do for you.
Avalon Insurance Group offers business insurance in Fort Myers, FL and North Port, Fl to protect the livelihood of your company from severe, unexpected financial loss. So much blood, sweat, and tears have been spent building your business from the ground up that you can't afford to leave your investment unprotected. Give us a call or drop into our office today to see how we can protect your business from undue risks.
We have two locations:
Fort Myers Office: 7370 College Pkwy, Ste 312, Fort Myers, Fl 33907 (239-275-3888)
North Port Office: 14503 Tamiami Trail, Unit D, North Port, Fl 34287 (941-200-5798)